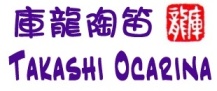 複管陶笛(雙管和三管)有台灣黃陶土和日本白陶土兩款,可依需求燻燒,彩繪或保持陶土的純色。為保持陶土溫暖的原色,特別使用日本進口無毒透明清漆,請安心使用。

第二管的指法可依需求訂製,可以是標準型,右手食指和無名指雙音孔;或是右手有拇指孔,等等。若無特別指明,將提供標準型指法。如有疑問,請電郵聯繫 info@pankuolong.url.tw
Multichamber (Double/Triple) ocarina can be made of Taiwanese yellow clay or Japanese white clay according to customer's requirement. The surface finish can be Smoke-fire, colorful or plain color according to your request. To retain it purity, a coat of non-toxic transparent varnish is applied on the surface of ocarina.


Varies type of fingering system of second chamber can be customized per request, including split-hole for right index finger and ring finger, a thumb hole on the back of second chamber, etc. If no specified, the standard asian fingering which split-hole for right index finger and no thumb hole on the back will be provided. Should you have any question, feel free to email to info@pankuolong.url.tw
Sound Samples:
DBC: https://www.youtube.com/watch?v=ZTIRGwnT43U
DAG: https://www.youtube.com/watch?v=nfFs2wxdRVY
TABb: https://www.youtube.com/watch?v=LIogI8GPoiM
DAC: https://www.youtube.com/watch?v=3wnmfUyhH9Q
TAC: https://www.youtube.com/watch?v=dh-c7o6b4eo
DSG: https://www.youtube.com/watch?v=8z0DAmloM2k
more: https://www.youtube.com/pankuolong
如預訂購庫龍陶笛 (Takashi Ocarina),請按 [訂購 / Order] 進入,謝謝。
| | | | | |
| --- | --- | --- | --- | --- |
| 調性 | 重量 | 尺寸 | 價格 (TWD) | 音域 |
| Double BC | 980g | 23x17cm | 15,000 | A3 - C6 |
| Double AF | 730g | 21x15cm | 12000 | D4 - F6 |
| Double AG | 500g | 19x13cm | 12,000 | E4 - G6 |
| Double AC | 360g | 16cm x 11cm | 7,000 | A4 - C7 |
| Double SF | 300g | 16x11cm | 7000 | D5 - F7 |
| Double SG | 250g | 15x10cm | 7000 | E5 - G7 |
| Triple ABb | 430g | 17x13cm | 12000 | G4 - F7 |
| Triple AC | 400g | 16cm x 12cm | 12,000 | A4 - G7 |
[首頁] [陶笛] [照片] [影片] [部落格] [訂購] [意見]
版權所有 Copyright © 2021 庫龍陶笛 (Takashi Ocarina)